July 28, 2012
The Olmecs: enigmatic art from America's first civilization
Combing through the bookcase today, I found the catalog from last year's Olmec show at the DeYoung Museum–enigmatic art from the oldest civilization in the Americas. Exhibits ranged from ten-foot heads to delicate, inch-high jade figures, to an intimate grouping that looked like a new-world Stonehenge.
El Bebé was my favorite object in the show.
If you have the chance, be sure to visit many of these pieces in-situ at La Venta archeological park in Villahermosa (in Tabasco state), Mexico. Jack and I were there not long ago. There are some two dozen carvings–including the famous colossal heads almost  3,000 years old–displayed in a mystic jungle setting. Walking among these inscrutable idols along a narrow jungle path, my skin damp in the heat, cicadas sawing, a scarlet macaw shrieking nearby, a jaguar pacing in its pen, I felt transported to a time beyond memory.
The Olmecs were the first people in Mesoamerica to create a codified religious universe that we can recognize today through the surviving art. Scholars believe they were also the first Mesoamerican civilization to develop a written language. They revered deities in the form of jaguars, serpents, and eagles. Their religious concepts–reflected in their art, influenced the Maya civilization that came later.
[slideshow post_id="1529″]
The excellent book produced for the show is still available from amazon.com.
Olmec: Colossal Masterworks of Ancient Mexico edited by Kathleen Berrin and Virginia M. Fields (Show catalog)
For further information about the Olmecs:
Olmec: Colossal Masterworks of Ancient Mexico article by Jeremiah Barber in KQED arts
Olm
ec Archaeology and Early Mesoamerica, article by Christopher Pool (Cambridge World Archaeology, 2007)
Olmec Art and Archaeology in Mesoamerica (Studies in the History of Art Series) by John E. Clark and Mary E. Pye (May 1, 2006)
The Olmecs: America's First Civilization (Ancient Peoples and Places) by Richard A. Diehl (November 1, 2005)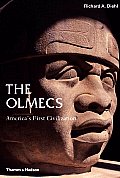 Filed under:Americas,&nbspGreat Ruins,&nbspMexico,&nbspPlaces,&nbspResources,&nbspStories || Tagged under: Featured,&nbspMexico,&nbspOlmec Art,&nbspOlmecs,&nbspTabasco,&nbspVillahermosa